HVAC is an indoor technology that is installed in homes, offices, workstations and vehicles to control and manage the ventilation process and air conditioning of the home. It is recommended to be used at workstations to keep the environment at a comfortable level. Usually, it is a big system with complicated functioning where different heavy duty air conditioners and cooling units are connected to the ventilation system. An HVAC system is needed by different industries to manage the interior environment and heat properly. It is necessary to keep the temperature of a specific area or units lower than exterior temperature.
Why Is This Useful?
There are many reasons why using the latest HVAC system has become so essential these days. This system provides the most reliable indoor air quality. Furthermore, the major goal to use this system is to manage the heat and prevent any rise in the indoor temperature. It is also the best innovation for thermal comfort and air quality management in offices, homes and large factories. Nowadays, the HVAC system has become an integral part of the construction industry because it protects the workers and provides them with the best quality fresh air. This thermal-comfort system can be installed in a single family home as well as in large buildings, like hotels, hospitals, and industries.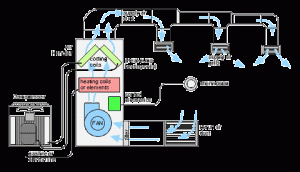 Where to Find a HVAC System?
It is not hard for you to find the companies available for HVAC installation. However, you must consider only the certified and reliable companies that have been dealing with HVAC installation for years. Customers are extra careful about the installation of HVAC systems and they search for the leading companies. Then they make a comparison among them to access the most suitable service provider.