Video conferencing is the use of a live integrated visual and audio connection of two or more separate locations in real time, for the purpose of official communication. It can also be used for informal communication. The following are situations in which a video conferencing may be used:
Business Meetings
Business meetings, whether internally or externally, utilize video conferencing. A large company or business can hold an internal meeting or external meeting with another company through video conferencing. Human resource (HR) can also use the same to interview job applicants and train the company's staff.
Education Field
Just like business enterprises, educational institutions have not been left behind as far as the use of video conferencing is concerned. Educational institutions such as colleges and universities use video conferencing to conduct an online education or online class session, continuing education and conducting virtual field trips. Teachers can as well hold meeting among themselves or with teachers in other institutions using this means of communication.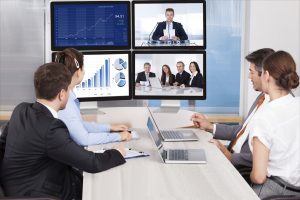 Telemedicine
Health institutions like hospitals also find the use of video conferencing quite useful. It offers many benefits to the personnel working in hospitals. Doctors don't have to travel to the healthcare facility where their patients are located anymore. In case she's a doctor who serves more than one health institution but needs to keep in touch with her patients, she can do that through video conferencing and know the state in which her patients are in without necessarily having to travel to go and see them since she'll be talking and interacting with them through video conferencing. This saves time. During medical surgeries, video conferencing may also be used to view every stage of the surgery session. Leading surgeon and the observation team don't have to be in the surgery room since they can view every stage through a video conference.
Legal Industry
Legal firms like the courts also may use video conferencing to connect with witnesses who want to testify but may be far away during court sessions or are afraid to be physically present during the said sessions. Sometimes, courts may interact by holding meetings aimed to discuss such issues as work experience, share legal resources and research through video conferencing.
They can also be used by courts to conduct remote court trials where the parties involved can appear in courts from their different locations and debate on the legal matters.
Telecommunication
Video conferencing can also be used in communications between employees of a company. Employees can work for their companies from the comfort of their homes via video conferencing. With very strong internet connectivity, even family members who are far apart can hold a meeting and talk to each other in real time via video conferencing. Video conferencing is not restricted to official meetings and businesses alone.