Having meetings between employees and the higher-ups is normal in any company. Some people are not able to attend these meetings because of different reasons. An alternative to going to meetings personally would be for the company to hold a video conference. With the power of today's technology and super-fast internet connections, meetings online have been the go-to option for meetings especially for those people that are in other countries. HDH tech knows this so if you want someone to facilitate your video conference meetings, we are just one call away. Here are some more reasons why video conferencing could help your business:
1. Travel time and costs are reduced significantly
Going to and from the office can be a struggle for most people. Being able to do a live meeting through video conferencing makes sure that all the required people in the meeting would be able to attend. Interviews for aspiring applicants through video conferencing make the hiring procedure easy as well.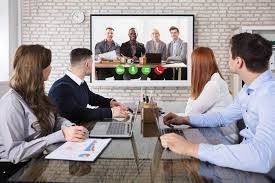 2. Perfect attendance
Aside from getting to the meeting by going through traffic jams resulting in being late to the meeting, video conferencing allows employees that are based on other countries to be able to attend the meeting. No lates, no absences and having a meeting at the comfort of your own home.
3. Employees could focus on the things needed to talk about
Normal meetings can be chaotic. Since video conferencing must be scheduled due to people being outside of the country when the meeting starts, a specific timeframe is agreed on by the participants. During the meeting, various subjects could be talked about in a specific schedule and unnecessary discussions could be avoided.
There are many more ways that video conferencing can help businesses. HDH tech delivers the smoothest video conferencing service available in the market right now. Contact us today and revolutionize the way you do your meetings.