We are living in a wireless world. At least that's what technology is leading us to accept as the norm. Your smartphone and tablet are long past being devices to check the news and for entertainment. They have become the wireless remote to your life. The airwaves carrying the internet data through a WI-FI connection are not just to check your social networks. You can control every aspect of your life with it.
While there are some pro contractors that still favor a wired environment. The fact is that wireless is the way of the future. The limitations the technology may face today regarding range and signal are being overcome as you read this. Trusting a Wi-Fi reliable House Automaton system will also do wonders for your electricity bill. HDH Tech is the leading company in New York City's tri-state region that will help you set up your Wi-Fi Home Automaton so you can start to live in the future.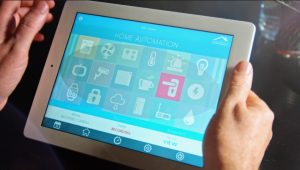 What Can I control With a Wi-Fi Automaton?
Are you ready? this is a long list: You can monitor the security of your house with a smart-app, you can answer your door, You can control home electronics either with your tablet or your voice, You can adjust the thermostat with your smartphone, You can water your plants, you can control the lights and the shades, you can even find your lost keys with Wi-Fi automaton technology. The list goes on. It's very little what you can't actually do if you measure it against what you you'll be able to achieve with this technology.
It's there a drawback to all this?
There is very little risk when you set up your place with a Wi-Fi automaton system. As you may already know the advantages represent long-term savings. And while the technology evolves every day, you won't need constant upgrades to your Wi-Fi system. Setting up the system may be complicated but the professionals at HDH Tech are more than willing to help you out with every step of the process. To get your Wi-Fi powered smart house up and running.