Appliances are found in every home today. Some help make our lives easier while others are there for just entertainment purposes. An individual's morning typically starts with using a hot shower, making breakfast with help of a toaster and a coffee maker among other appliances. The interaction between these devices continues on multiple occasions throughout the day and into the night.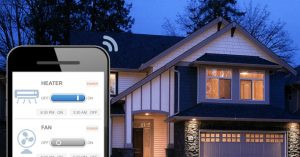 What if a single command could magically heat the bath water to a temperature that you would enjoy? How would it feel to have your coffee or juice machine ready whenever required? Smart home automation systems exactly do that. These systems ensure that you could open the window blinds, turn on the lighting, and heat up the bath water even before you get out of bed, all at the touch of a single button or on schedule.
Universal Remote Controllers
Various smart home device systems consist of a remote control unit that lets you manage all of your appliances throughout the property while eliminating the need of for multiple remote controls for each device. Savant's Remote is an example of one such device. You won't even have to move out of your chair to turn on the television or control the lights. Close or open the Motorized Shades or Drapes and adjust to any height or opening width at the touch or slide of a finger. Everything is literally at your fingertips-one remote that controls many devices.
Control Devices via Mobile Application
Several home automation manufacturers bundle mobile applications with their products and systems. These applications allow the control of all the devices and systems directly through a mobile device such as a smartphone or tablet. You can simply, use your phone to set the ambience with instant access to control more aspects of the lighting or you can easily start and stop the climate control, provide entrance access to specific individuals either automatically or remotely, while welcoming you or your guests to an automatic room temperature that you set within your preferred settings which is ideal when returning from an outing.
Use Dedicated Control Panels
Some manufactures provide control panels that can be wireless with touch screen capabilities, while others are wall mounted to ensure redundancy and no loss of access to controlling your devices from any area or room within your home or property. You can choose to select from one of the preprogrammed profiles or create a customized profile of your liking. You may schedule some systems to run at a specific time intervals daily as per your needs.
Almost all smart home automation systems include controlling appliances remotely. Some may offer control through a dedicated device, while others may allow you to enable it via a mobile applications.