You might have heard about home theaters or cinemas as you might have it, but might not have been fascinated by the whole idea. Actually, there is a pretty big deal to having a Home Theater which you will see for yourself as we progress.
First, you might want to be aware of what a Home Theater is, and what it's meant for.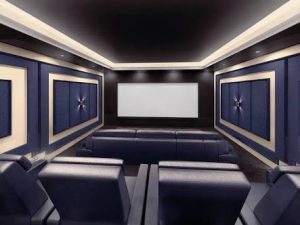 Home Theater
Home theater is a set up that takes after the format of a movie theater, making extensive use of audio-visual gadgets, right in your home, giving you a totally awesome theater experience. If done right by employing the services of tech companies like HDH Tech, you are assured to have a more swell experience than you would have in an outdoor theater.
When properly set up, a home theater can give you a wholly novel experience of entertainment as well as homeliness. Yes, you get the feeling of being at home because home theater is actually set up in a room in your house, or just in the back yard if you still have some space to spare there.
The set-up of a home system is quite simple, all you simply need are; a large full screen high-resolution HDTV system or a video projector, the movie you want to see, to be played on a DVD player, with the audio jack connected to an audio amplifier of your choice, then you and your kids seated in whatever comfy seats you want, in a less illuminated room. That's pretty much there is to it.
Lightning: A cogent part of the experience.
Yes, you would say I mentioned a less illuminated room in the paragraph above, why then do we need lightning in a Home Theater again. Lightning in a Home Theater, just like any other theater should not be too bright and distracting, so in setting up, you might want to consider having a not-too-bright or colored lightning, to condition the atmosphere in the room, set for an exhilarating experience.
Well thought out light colors help you condition the scene and emotion that flows in your Home Theater. Having this lights on when you are set to see a movie reminds you of summer and gives you a happy warm glowing feeling. As a result of this, you might want to consider colours in the ranges of red, orange, yellow, due to their warm nature.
Have this at the back of your mind, your Home Theater isn't complete without the proper set of lights to illuminate the room.