A popular myth with motorized window shades is that it's a distraction for a room's interior design. This is not true since there are many styles and designs of authorized window shades to choose from.
Making the right choice for authorized window shades means finding something that complements your home's interior décor. This quick guide will highlight different style options worth your consideration.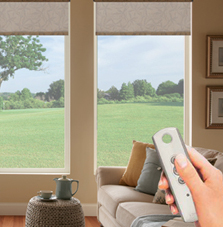 Stylish Options
The automated experience that shades offer is their best asset. Some of the styles and features of motorized window shades that can make you home look like its right from a magazine include:
Drapery: Motorized drapes are a good option for the more traditional room. Drapery rods allow you to choose from an assortment of drapes that suit your home and you can add automation.
Roller: These window shades style is for homes that didn't want to be extra on their window treatment. Their simplicity and the grace by which they roll up give your room the class it deserves without taking away from your interior décor.
Double Shades: This is a combination of multiple styles of window treatment. Double shades allow you to have a combination of view preservation and blackout, roller shades and drapery among others.
Roman: These shades allow a wide variety of fabric options. You can go for patterns and colors that suite your room décor. They are simple to get out of the way when not needed and easily accessible since they roll in pleats.
Honeycomb: These motorized shades can be put away easily since they fold up. An extra advantage of them is that as they unroll, the pockets between the fabric helps to insulate the room.
Conclusion
There's virtually no aspect of motorized window shades that's not customizable. Between the multiple types of handles and rods, the pattern choices and the variety of fabric colors – window treatment options are endless.