With the advent of Home Automation Systems also called Smart Homes, there has also been a rapid growth in the commercial automation industry. Commercial automation systems are quite similar to home automation systems and require automation to be done at a larger scale. Home Automation Experts are usually well versed in Commercial Space Automation systems and design. It's typical to find similar Automation System types in both residential and commercial space applications. The top items on the automation list focus on safety, accessibility and comfort. For instance, cooling and heating control systems are some of the priorities within most commercial buildings as it provides stabilized climate control, notification functionality and complete remote control.
Some Similarities between Home Automation and Commercial Automation
Security Features
Every Smart Home installation usually includes security as part of the core functionality. Features include user access lists, entry control by zone as well as time and date scheduling. Integration of cameras, biometric and keypad is easily implemented and can be included in one or more access zones throughout the space. Many, if not all, of the Security systems when entering the premises at a point of time, the smart cameras and motion sensors, can send the videos to multiple recording devices either on-site, in the Cloud or to another facility. Mobile and desktop apps provide instant access to monitoring and controlling the security systems from anywhere in the world. These and more features are similarly available for both Commercial and Residential use.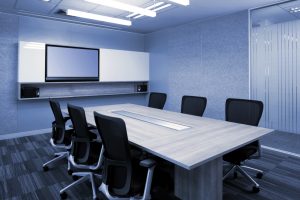 Heating and Cooling features
Whether it's residential or commercial, cooling and heating systems are critical components of Smart Home and Commercial Automation. If it's a large office space, you can access the heating and cooling system via an control system. The only difference is that the larger facilities often have variable requirements by zone and offer access to multiple individuals depending on their location or access level.
Additional Features
The same applies for many other Smart Home and Commercial Automation products. You can find Motorized Shades and Drapes, Lighting Controls, Video Walls, Audio and Video Presentation, Climate Control Systems, Appliance Controls and more.