Having meetings from time to time is a necessity for any company and business. This is where all the people involved gather and share their accomplishments, failures, and goals. Sharing content can be a challenge if there are wires here and there. HDH tech aims to solve all that through wireless collaboration in any office. The timeframe of a meeting is very important mainly because of the people's availability. Time is money after all. This is why removing any hindrances is important and cables and wires are included.
The difference between presentation rooms to wireless collaboration rooms
Both rooms are used in meetings. The main difference would be the efficiency of the meeting itself. Will the people involved be able to share each information within the designated time? Will there be a need for an extension of the meeting? In a presentation room, only one can share information at any given time and it is the presenter itself. While in a wireless collaboration room, all people involved would be able to share content anytime from any device. Of course, wires and cables are done away through this type of room. This provides real-time discussion between people since all points are being laid down on the table.
The flexibility of wireless collaboration rooms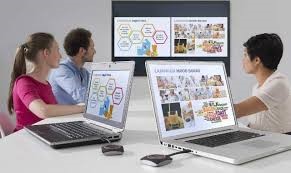 Ironically, meetings are hampered by technology because of those wires and cables for various devices. However, if a wireless collaboration room is used, people can rest easy and not worry about those cables anymore. Not only that, they can interact with one another in a real-time fashion. Ideas keep flowing in non-stop because of the ability to share them at any given time without the need to wait for someone to finish their report.
HDH tech understands the need for meetings to be held promptly. If you value your meeting time, contact us and let us handle your meetings and presentations.