With the ever developing technology, luxury apartments also continue  to reach new heights since their interiors are equipped with luxurious state-of-the art facilities such as fashionable kitchen gadgets and appliances, Jacuzzis, home automation systems just to mention but a few. Some other factors that make these luxury apartments look even more appealing or luxurious are:
Technology and home automation system
Luxurious apartments have state-of-the art security system that is enhanced by the ever developing technology. You can control your apartment's climate, lock its doors, and control the alarm system and its lighting system just by the touch of a button on your remote controller, smart phone or tablets. The home automation also alerts you whenever there is an intruder in your apartment.
Luxurious interior
The interiors of these apartments  have been decorated and designed with a lot of contemporary artwork creativity that give them a striking luxurious display that is breath taking. The materials used to decorate their interior are also of high quality. The lobbies of these apartments have been furnished with braised leather and other expensive items that give them a bright and a beautiful space.
They have also been equipped with entertainment facilities and amenities such as indoor pools, indoor basketball courts and gaming rooms and theatre that will make your daily living even more luxurious.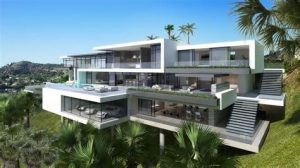 Efficiency of design
Their designs are just in another level. These apartments have doors that start from the ceiling to the floor and slide into the wall, giving you access to your backyard. Their roofs have also been designed with materials that insulated the room better for the purpose of temperature regulation. The walls have also been well designed to reduce the cost of heating and cooling the rooms. Adding to the exquisite designs are natural stones that are used to construct and design their walls and the hardwoods that are used to design the floor to make these apartments have a more natural and organic appeal to their occupants.
Meticulous landscaping
These luxurious apartments sit in compounds that have been designed to create an appealing landscape that evoke the feeling of comfort, peace of mind and comfortable lifestyle. The pavements outdoor have also been elegantly manicured to evoke the said feelings even further.
Living in a gated community
Living in luxurious apartments that have been gated gives you a unique lifestyle that is characterized with privacy, peace and connectivity. You will also have an exclusive access to social or entertainment amenities such as swimming pools, gaming courts and theatres located inside them since everyone coming to the said facilities will also have to check in, which will ensure that there aren't any uninvited guests coming around.