Who would have ever thought that television and mirror can work as one? Or have you ever imagine yourself in that one cozy morning enjoying a glass of wine at your bath tub while watching your favorite movie in a mirror like television? Well, Technology and continuous innovations doesn't fail to surprise us every day. It seems like yesterday when the first television was released in black and white. Then it was developed to colored display to flat screen to smart televisions connected directly to the internet. And now, latest technology gives us Vanishing TV Mirrors.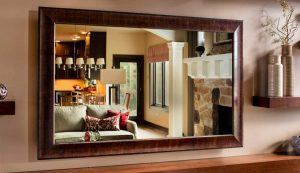 Vanishing TV Mirrors can now be availed in the market. But compared to smart televisions, its way more expensive price guarantees its consumers that it is worth every penny based on its amazing features. Your visitors may not even believe that your mirror is actually a television!
Convenient:  
These Vanishing TV mirrors can also be placed any where you want. You can mount it in your living room, dining area, bedroom, kitchen or even in front of your bath tub. It's amazing feature does not limit your vanishing TV mirror to be placed only in common areas but also in comfort room, thanks to its waterproof feature.
Stay Connected: 
Ever since internet has become accessible to everyone, it has become part of our everyday routine to regularly check our emails or messages. But sometimes it is difficult to check our notifications because it is confined in our gadgets like phone, tablet or laptop. But not anymore, thanks to its smart feature, you can now check your emails and other notifications even by using this Vanishing TV Mirror.
Have you decided to check this amazing Vanishing TV Mirror but you don't have any idea where to look for? You can now check this product at the tip of your fingertips at hdhtech.com.