When switched off, the televisions in our living areas or bedrooms also switch off the glamour factor of that particular room. The latest technology Vanishing Televisions can help overcome this problem. Vanishing Mirror Televisions come in two categories, Entertainment and Vanity. These sets have an added feature of unique mirror cover that allows viewers to watch television through but hide the black screen entirely when switched off.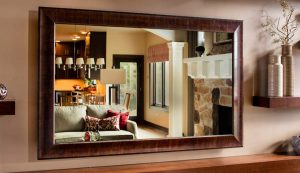 What are Vanishing Mirror Televisions?
The primary purpose of the vanishing television set is to allow its users to install and watch it anywhere without compromising on the design and style quotient of that particular room. These blends of design and technology are manufactured using high-quality reflective mirrors that enhance the viewing quality when the device is switched on and make it disappear entirely behind a mirror when turned off.
Benefits and Choices
The sets come in various sizes and most manufacturers allow you to select the design configurations including the size of the set, the mirror, and the design of the frame in which it can be enclosed. These devices can be installed in living spaces, above fireplaces, even in bathrooms. A large mirror cover in front of a medium-sized screen can allow you to access television and mirror at the same time. These sets come in 4K resolution screens and can be enclosed in over 100 types of frames.
Vanishing mirror televisions can help you beautify your living rooms, hotels or office spaces. The glass placed on top of the sets also protects it from dust and insects as the television is sealed. The high-quality mirrors are a perfect way of hiding the large lifeless TVs hanging on the walls without making them intrusive in any way. The experts available at https://hdhtech.com can help you explore the endless possibilities of installing these pieces of art on walls that are not normally considered as a suitable option.