The use of technology increases not only the satisfaction of your employees but also the overall productivity. A business needs time, effort, and efficiency. But because we are humans and we are simultaneously dealing with many other things in our life, there is always a possibility of error. Though such mistakes may seem insignificant, you realize their cost when you add them up.
Apart from the errors, why do you even want to spend more time and energy when you can have your work done in less time and with less effort? Because spending more time and energy on things that do not contribute much to the success or that you can do in less time increases frustration, reduces the morale of employees, and stalls momentum. And hence, this reduces the overall progress. Moreover, there are still many companies, even in this era of technology, that do not benefit from technology. All such inefficiencies and lack of progress can be handled by savant office automation. And also keeping in mind the competition around, it is essential that your company promotes not just the workspace, but also perform streamlined operations.
Do not let your office and business lag behind. You can contact any smart office installation company such as HDH that provides services in NYC, NJ, and CT. This smart office company can enhance the working conditions of your office space and maximize productivity with its high tech and reliable products.
Some of the high tech office upgrades that you need to consider to keep your workplace and performance up to date are: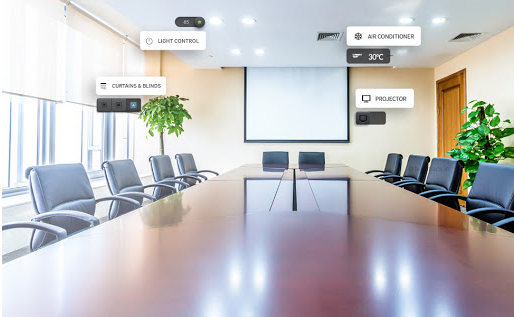 Lighting control:
With smart lighting and shading control, you can increase energy efficiency and convenience. The technology can also reduce the cost of electricity bills. And you can get this benefit by savant office automation. When you think about the home automation system, you get the idea of how it would work in the area of your home and what is the benefit that you get. Consider the same automation in a workspace or a company that accommodates many rooms, halls, and many employees. Because you can not handle everything so efficiently, a smart office company would be a place you can get help from. HDH, a smart office installation company that provides you with high tech office upgrades will allow you seamless control using a single interface. Moreover, this smart office company also provides you motorized shades and drapery that suits your environment and also controls the amount of sunlight you want. If you live in NYC, NJ, and CT, you can quickly get services from HDH.
Wireless Collaboration:
As your business and office work depends on multiple individuals, it is also essential to have a streamlined communication system. Gone are the days when you used emails. With the advancement in technology, you need to benefit from advanced tools and services that a smart office installation company provides. Invest in savant office automation communication options that make presentations, meetings, calls, and file transfer easy for you. Contact a smart office company and get services because this will transform the way you work with your team and will solve problems efficiently and also maximize productivity. Savant NYC, NJ, and CT can be an excellent place for you to get these services that a smart office installation company can provide.
One-touch control:
A smart office installation company can tie all your smart technology together. Contact a responsible office company such as HDH at NYC, NJ, and CT, and you will be able to control all the appliances and technology with a single interface. This one-touch control for your whole workspace increases efficiency by reducing the energy that could be used for more critical tasks. And you will be able to work on more critical tasks than by operating the same things again and again. No matter where you live, NYC, NJ, and CT, you can get automate your office with new technology.
Why HDH?
HDH is a smart office installation company that helps you creates an automation system for your home and office. This smart office installation company owns a plethora of services from lighting control, temperature control to more advanced complete home and office automation. With many years of experience and high-tech automation upgrades, you can easily rely on this smart office company. From NYC, NJ, and CT, you can quickly get services from HDH, a smart office company, by contacting 1(855)850-3808.