Windows are the integral component of a home. They let sunlight in and light up the rooms. It is important to choose the best kind of treatment for these windows. Installing new blinds and shades requires a sense of style. They are meant to beautify the windows and add an improvement to the home decor. Motorized blinds are the best choice. With increased home automation, the range of diversity in motorized blind has also expanded. An array of styles, colours, designs, textures and materials are available for motorized window shades. It is essential that a buyer has done some kind of research on everything that should be kept in mind before buying motorized window shades.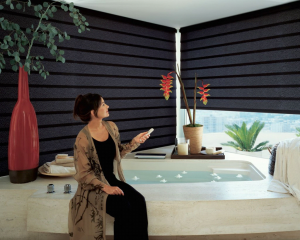 The source of power for the shades must be kept in mind prior to buying them. The power source might be a wire that hides within the wooden furnishings. The intensity of voltage should also be considered. High voltage is required for blinds larger than 9 feet and low voltage is required for those less than 9 feet or smaller. There should be no compromise on the performance of the blinders. This can be practised by connecting multiple shades on a single motor and also by avoiding extra large shades. There are some other checkpoints that should be kept in mind before purchasing:
Budget and Safety:
The most important thing is before buying new window shades is the cost.Motorized window blinds come in all shapes and sizes, and hence the prices also vary. Wood shades look aesthetic but are very expensive. Likewise faux wood blinders resemble wood blinders but come in half its price. Honey comb designs are not only economically feasible but also energy saving. Basic vinyl blinds are cheap but not attractive. Secondly safety insurance is essential. This is important especially for kids and pets in the house. Cordless blinds must be installed to prevent accidents.
Light, privacy and style of blinders:
It is essential to determine how much sunlight the buyer wants in a room. Same goes for privacy. Adjustable blinds are available that can alter the amount of sunlight. Aluminium shades offer complete blockage of light. For privacy, the horizontal and vertical blinds have slats that can be changed in alignment between rotating up, down, opening and closing. The fabric,texture, material and colors are important for a blind. They should coordinate well with the decor and color scheme of each room. Only this will create a perfect ambiance.