Motorization of your window treatments can help you solve several problems that you face on a daily basis in addition to adding flexibility, convenience, and comfort for your home. The process of motorization is not as complicated as you imagine. If you are confused on what direction to take in terms of whether to have the motorization powered by a transformer or battery or whether to control it with an RF or IR signal, professionals at Hdhtech.com can help you make the best decision.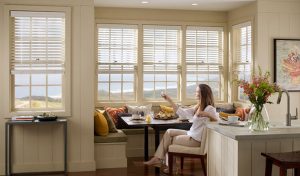 Benefits of Motorization
Manage glare – controlling glare while working on your computer or watching a movie or football game can be made much easier with motorized blinds and other window treatments. You will be able to set the mood of the room for the task you are performing.
Reach High windows – opening and closing hard-to-reach windows like those on top of the bathtub can be a nightmare even for people of average height. A motorized window treatment allows you to do this more effortlessly since you can use a remote to open or close the window.
Protect sunlight sensitive furnishings – sun exposure can be harsh on your furniture and floors. There are times you may forget to close the windows and you will pay for this deeply when the sun causes your furniture or other furnishings to fade. Motorized window treatments make you in control of the amount of sunlight getting into your home.
Increases safety – motorized window treatments leave no traces of parts like dangling cords that your kids can trip on or pets play. They are safe yet allow you to live a more comfortable life indoors.
Save time – if you have several windows in the house you can spend minutes to hours walking to each window to close or open it. With programmed motorized window treatments, you will automatically have your windows opened and closed at the perfect time.
The Cost consideration
Your budget will pretty much determine the type of motorized window treatments that are installed for you. Of course, there are also other factors like the type of house and windows and your motivation for the motorized window treatment; but the underlying factor will be the amount of money you're willing to invest.