The concept of a Smart Home is a home where the living condition is made convenient and easy to operate by the use of innovative technology.
Together with the evolution and innovation in Smart Homes, new products and services emerge. Today's Smart Homes contain varied concepts and newer products to make life more convenient and comfortable.
The most important thing to know is how these new devices operate and give convenience to Smart Homeowners. They were invented to improve your Smart Home by providing Smart Home Automation and using Smart Home Technologies.
The design and concepts of Smart Homes of today are the same but with the addition of the internet, it is more updated and automated. The core concept of innovation is to do everything and operate all devices with just a push of a button. The significant role of the internet is to be able to control and monitor your environment from anywhere in the world or wherever you are. Professional help from Smart Home Automation Companies is available to assist you to choose your automation system.
One of the first things we can do is understand how these devices operate. Smart home devices mentioned above typically connect to the internet through a few different protocols.
Protocols
Four most common protocols used in today's Smart Home include Z-Wave, Zigbee, Bluetooth, and Wi-Fi.
Zigbee and Z-Wave are low-powered wireless networks that are capable of forming a mesh network making them a suitable option for Smart Home Sensors.
Technologies and Devices use Wireless Connections to Improve your Smart Home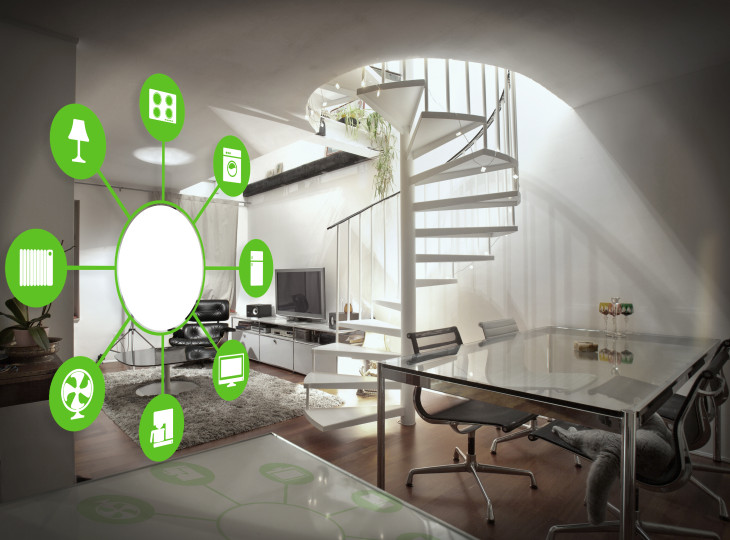 Bluetooth technology is used for transferring information between two or more devices that are near each other and where the speed of communication need not be so fast. Examples of devices that use Bluetooth are telephones, modems, printers, and headsets.
It is ideal for applications with low bandwith requirements. Telephones need to transfer sound data while hand-held computers need to transfer byte data. Keyboards and mice are also used to transfer byte data.
Wi-Fi is a wireless networking technology that provides wireless high-speed internet and network connections through the use of radio waves. It is used in operating full-scale networks because it provides a faster connection.
Improve your home with the following Smart Home Innovation and Automation:
Automatic Temperature Control – Wi-Fi-connected thermostats can save you energy by setting it automatically to your needs when the seasons change. By setting it before you leave the house its operation becomes hassle-free and efficient.
Houses with Smart Security has an advanced Surveillance System. CCTV cameras are the most widely-used devices for security.
In- the-Home Entertainment Room
Wired or Wireless Home Entertainment System that has a convenient operation of music flow
In the bathroom:
Vanishing Mirror TV
Smartphone controlled light settings
In the kitchen
Wi-Fi connected dishwashers
Energy and water management interconnect switches, lights, plugs, motorized blinds and thermostats.
HDH Tech Services powered by Savant Home Automation sets your temperature control, lighting system, whole-house music and automated security in a long-term plan. Visit now Savant Home Automation at Savant NYC, Savant NJ, and Savant TC.
Do you need just one app to turn on, dim and turn off your lights and lamps?
HDH Tech Smart Automated Home Systems came up with this front-of-the-line system that can be controlled by your smartphone or tablet app. Control different rooms, a variety of lights, varied lighting load types, and several switches to create an Integrated Automated Lighting System in your Smart Home.
Improve your home with innovation:
Open up your motorized window shades
Turn off your smart light bulbs
Raise or lower your room temperature
All these innovations can be controlled by a wireless connection. To operate all these you need several apps and several interfaces. Home automation is different. Smart Home Automation can integrate several systems and lots of devices to work together.
Why hire HDH Tech?
Tomorrow's Smart House Today. Hire the services of HDH Tech- It is a Smart Home Automation Company that can make your home of today the Smart Home of tomorrow. Technological Innovation made it a Smart Home. Automation made it even smarter. To improve your Smart Home better, seek professional help. Call HDH Tech to 1(855) 850-3808
.