When your desire is to reduce your monthly utility bills which will then help you save money, then home automation is a great venture for you. For you to install the home automation devices in your home, you will need an initial savings or any other source of money. But don't worry since in the long run; your monthly expenses will be reduced greatly by the home automation system. Before you know you, you shall have recovered your initial installation cost of the home automation within the first year. You will then begin saving a lot of money on yearly basis there henceforth.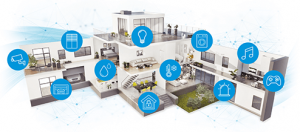 What are some of the home automation devices that will help you save money?
These home automation devices include: lighting controllers, thermostats, smart water sprinklers, fire and smoke detectors just to mention but a few. With proper installation, your utility bills will be reduced thus saving you some money. Make sure you purchase the right home automation devices for you to realize the full potential of home automation.
How does Home automation help save money?
With home automation, you control home aspects such as lighting, security, entertainment, climate, temperature and water with a push of a button on your smart hub. You can as well issue a voice command to control the same home aspects. You only switch on the lights of the rooms that are occupied and leave off the lights of the unoccupied rooms. This will cut down the cost since energy consumption in your home will be reduced to significant levels.
 Occupancy sensor that's used to control lighting system in smart, automated home
With smart thermostats, you may control the cooling and heating of your smart home. When you and your family members are away from your home, you may switch off the thermostat so that you may not waste energy heating your home when no one else is home. With smart thermostats, you only control the home temperature and climate when someone such as a family member is present.
Even your water system can be automated to help reduce water bills. This will add to your efforts aimed at saving some money. You may install smart water sprinklers that can be scheduled to irrigate your yard or lawn at specific times and moments. You can also control the sprinkler by switching it on or off at the time you deem fit. When you use the smart sprinkler, your water bills will go down and this will add some money to your savings.
Smart water sprinkler
With home automation, your insurance costs will definitely go down, which will assist you save money. Once you install fire and smoke detectors, you will have enough time to combat the flame and extinguish it before it can develop into an inferno. This way, you will reduce the risk of losing your property through fire. When your insurance company is made to be aware of your fire and water safety, it will give you a 20% discount, or more. This discount will reduce your insurance cost thus, helping you save money.