Nowadays, home security is probably one of the community's top priorities. Home security is what protects you and your family whenever you're home or out of the town or country. With the advent of modern technology and its progressive pace, home security has also been more modernized with the best and the most efficient tools that enable greater and more effective home security system.
Below are the benefits of home automation with your security system: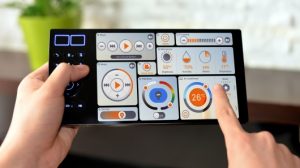 One-click Security
Automated or smart home security system has its very own posh technology that makes it so unique and efficient. Smart home security system uses the advantage brought about by smart phones, tablets, laptops, and other gadgets that can be connected to wireless networks (WiFi). With people having either one of these gadgets in their pockets or laps all the time, home security is now at the tip of everyone's fingers. You can use your smart phone to lock your gates, your main door or your back door or you can use your laptop to monitor your CCTV cameras all throughout your household!
Greater Security
Let's admit it. You can't have your eyes see everything all at once. And that's where        automated or smart home security system plays a vital role. You can now configure your       security monitoring system with the use of your smart gadgets! You can have a             motion             detection function for your surveillance system in specific times of the day and have    your alarm sound automatically if it detects something suspicious in your backyard! You can also have your lights scheduled on and off every now and then when you and your     family are out of town so that burglars will think there's someone present in the house.
Competitive Price
If you think you need one and you're ready to have your smart security system installed in your home right now, then you can have it in the most reasonable price with Hdhtech.com. Hdhtech is your only go-to company for the best and the most effective automated home security systems.