Home automations may be referred to as a good investment for a number of reasons. One of the biggest one in this regard is the fact that it provide you with the peace of mind about the security of your house. You might have heard a number of burglary incidents taking place around you. Keeping that in view, it is safe to say that home automation security systems are the key to safeguarding your house round the clock. Hd tech is one of the best companies that offer home automation solutions. If you are interested in getting such a system, it is strongly recommended to visit their website.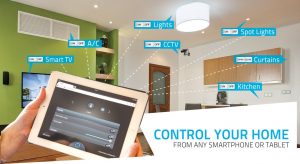 Protect all your assets using these systems
Home automation security systems are associated with a number of benefits but the biggest one among the others is that they enable you to monitor the security of your house remotely. With the increasing number of burglaries around us, it may be assumed that burglars are most interested in valuables like cash, jewelry, electronics and other similar stuff. When you are away and someone tries to trespass your property, a home automation security system would not only intimate you but it would inform the law enforcement agencies as well. This greatly improves the chances of the intruders getting caught in the act.
Monitor your house remotely
As mentioned above, home automation security systems provide you with a high degree of control over the safety of your house and the best part is that you may do it from a place far away from your house. Using such sort of security systems, you would be able to check out the sensors and camera feeds remotely using web access or some mobile application. So if you want your days of worrying about home security to be over, it is strongly recommended to get yourself one of these home automation security systems as they are capable of doing wonders for you and your house.