Window treatment refers to the addition of aesthetic and functional elements on, in or over the windows. Window treatment is a significant aspect of home decoration, lighting and security. Preferences in window treatment are usually made considering these three major aspects. There are innumerable options available in the market in terms of window treatments. A customer can decide a specific window treatment based on his/her requirement and budget.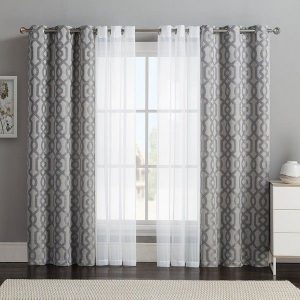 Window treatments are classified into two main categories: hard window treatment and soft window treatment.
Hard Window Treatment: This type of treatment is generally done with wood or vinyl. Wooden Shutters, blinds and shades made of wood and vinyl or faux wood or aluminum are placed in and around the windows.
Soft Window Treatment: Soft window treatment consists of curtains and draperies made of fabric. A number of designs and patterns are used to stitch the curtains and draperies so as to enhance the look of the house and increase the functionality of the windows.
Choosing the right window treatment for your house is a tricky task. You have to consider several factors before finalizing a particular treatment. Even different rooms of a house may need different window treatments. Let's take a look at some factors that will help you decide the best window treatment for your windows:
Flexibility in the entrance of light: If you want to change the entrance of light into your house according to your needs, wooden blinds will be the best option for you. They will allow you to let in light completely and partially. You can also shut them completely to stop any entrance of light in the room. Shades are another option for having a flexible lighting system. They are made of a single piece of fabric and roll up and down according to your needs. You can choose the colors of the shades according to your light requirement. You can also go for shutters if you want a long-lasting option for your windows.
Protection from harmful UV rays: If your major concern is protection from UV rays then solar shades will be the perfect choice for you.
Maintain the climate of your house: If you want to cool down your house during a hot, sunny day, thermal curtains will be best for you. They come in various configurations and are energy efficient.