One of the most important features of our homes is our windows. They keep the house ventilated, let the sunlight in and enhance the overall look of the house. People love to experiment with their windows and so they use various creative ideas to determine the shapes and size of their windows. There are many makeovers and treatments that can increase the beauty of your home. Two such treatments are motorized shade and drapery. While choosing the best motorized shade and drapery for your window, you can consider the following info: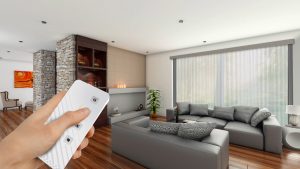 Advantages of Motorized Shades and Drapes
They are a solution to hard-to-reach windows, such as windows above the bathtub or the second-story windows.
They do not have any dangling cords, which means your pets and kids cannot play with them.
They automatically protect your furnishings. Exposure to sunlight might be harmful to your furniture and floor, and when you won't remember to close the window treatments, it will automatically protect them.
If your room has many windows, you might be spending a lot of time to individually open and close each treatment. However, motorized shade and drapery does the task speedily.
How to Choose the Best Motorized Shade and Drapery?
While choosing, you usually get two options, i.e. operated by a battery or a transformer. But the transformer is more convenient because it won't require to change the batteries frequently. Moreover, in the long run, the motorized ones with transformer prove to be economical.
Install the one that can be operated through a remote or from a wall switch. It is recommended to have both the options because if the remote gets misplaced somewhere in your house, you can still operate them. HDH Tech provides you both the solutions.
When you explore shade or drapery, you will get many designs and varieties to choose from.