Whatever be the business, the primary aim always remains to earn higher profits. This is only possible when all the processes are initiated rapidly. Today, video teleconferencing has made it possible. The distance factor in case of business meetings has almost vanished and this face-to-face communication facility from the office has led the businesses to achieve huge success in managing time and saving money.
The benefits of video teleconferencing are not limited to businesses, as people in their normal life are also adapting this innovation. You just need a collaboration of basic computer hardware and software combined with good communication medium.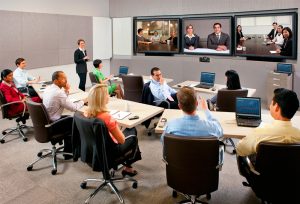 The video conferencing services from HDH Tech give your business an edge to effectively communicate and collaborate with numerous business associates and clients at the same time. It is the most cost-effective and efficient communication method that can monitor and control various activities of your business. Your virtual boardroom can have reserve seats for associates from all over the world and all of you can experience real-time audio, video and digital interaction.
Benefits of Video Teleconferencing
There are many benefits that video teleconferencing provides. Some of them are mentioned here.
Several Participants Can Video-Call Simultaneously: In video teleconferencing, several participants can talk face-to-face at the same time. This process is more commonly practiced today and you just need a smartphone in your pocket to be a part of that video conferencing session.
Time Spent in Commuting is Saved: Covering long distances to meet people is a costly affair. But if you have to conduct an important meeting with your associates, all you should do is arrange a video teleconferencing session with them and save a lot on travel expenses.
However, there are numerous other benefits in this regard, like organizing meetings irrespective of time, humanizing the conversations, showing products or work-in-progress, etc.