Home automation has become more popular in the last decade due to its ability to increase the comfort and quality of life. Most of the home automation systems today incorporate a micro-controller and a smartphone. A smartphone application is used for monitoring and controlling the home appliances through various communication techniques.
Wi-Fi Technology
Wi-Fi technology makes home automation systems, like security appliances, alarms, sensors and cameras more customizable. Wi-Fi technologies, like Insteon enable cameras to communicate wirelessly and also enable smoke sensors, door switches and motion sensors to communicate more effectively with your home automation systems. The Wi-Fi technology can also help trigger sirens and even trap an intruder inside your compound or house.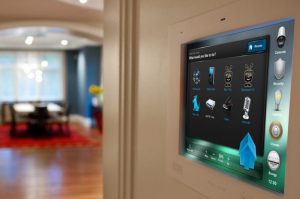 Other Wireless Home Automation Technologies
There are other popular wireless communication technologies apart from Wi-Fi. One of the most popular ones is the Z-Wave technology. This is a two-way wireless communication advanced technology that uses gateway and bridges gadgets to communicate with your touch panel or device. A lot of homeowners who use these technologies do so because of limited wireless bandwidth. Z-wave is a lower frequency system that directs Wi-Fi connection and thus uses a low bandwidth that won't interfere with the internet speeds.
Lightwave RF
This is a relatively new technology that is capable of providing admirable performance for a lot of home automation applications at a low price. Although this technology does not include mesh networking or a two-way technology, it offers gadgets that are remote controlled, controlled using central controllers or smartphone apps. It can also be used to connect your home automation appliances to the internet so as to send texts or emails.
How to Select the Best Wireless Home Automation Technology?
Although the Wi-Fi technology is the most preferred option when it comes to home automation gadgets, appliances with this technology are usually expensive. At Hdhtech.com, you can consult experts regarding which home automation appliances to use to take care of your unique needs.