There has been a steady increase in the number of homeowners requesting for the installation of Motorized blinds from Hdhtech.com. This automation technology can enhance the beauty of your home in addition to providing convenience, protection, and comfort. Many homes have begun to realize the benefits of this piece of technology.
Here are top five reasons why you should also request for motorized blinds.
Elegance
We can all agree that ere is no amount of tugging that can get shades into the perfect position that we want them in. motorizing can help move the tags to that ideal spot with only one fluid movement. Shades will move in a perfect alignment even when you have multiple windows. What is more, you can now get rid of your messy rope pull cords since you won't need them for your draperies.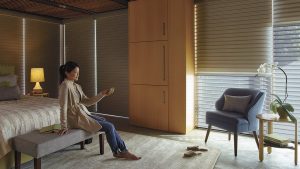 Energy Savings
The reason why you're getting a high energy bill is that your air conditioner is working overtime. When sunlight is strong, a high amount of heat can tend to pass through the windows unless you have a sun sensor. Motorized blinds that come installed with sun sensor will automatically shut off when they detect that the sunlight is too strong.
Higher Level of Privacy
Do you have those nosy neighbors who will never fail to peek inside your house when passing by? Well, you can shut them out with motorized blinds. If a neighbor happens to pass when you are having an intimate moment in your home, even if it's cooking with your better half, you can instantly shut the blinds.
Increased Home Security
Motorized blinds are a section of home automation. This means they can be programmed to control your blinds or shades eve in your absence. With an app on your smartphone, you can shut off the blinds you forgot when you got out in the morning. Moreover, you can set your blinds to open and close at certain times in the day when you are away on vacation and give the impression that you're home thus beefing up security.
Furniture Protection
In addition to causing your AC to overwork, sunshine can also make your upholstery fade and age faster than they should. Motorized blinds can help prevent this.