Home automation is on the rise as many people are increasing finding it important to automate their homes and it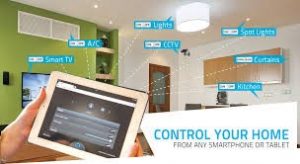 is providing safety and comfort for a lot of people and changing the way things are happening. The idea is for people to be able to from the comfort of their phones perform a lot of functions in their homes.
Some of the new ideas for mobile applications include:
Security – many applications are being built with the general idea being to be able to connect phones to surveillance cameras in the home. If mobile based apps can perform this function it will change the outlook of security in the home. From the comfort of a phone screen a person will be able to view all that is happening in his home at every point in time.
Lightning and ventilation- the amount of light that enters into the home is linked with the windows and bulbs in the home. Apps are being built on mobile platforms which want to ensure that from the comfort of a phone you can dim intensity or increase the intensity of a light bulb. How open or close which a window is can also be controlled by a mobile app and on the phone of a person from the comfort of his fingertips literally.
Kitchen appliance- apps are built in other to ensure that the contents of a fridge is known as well as the expiry dates of the contents of the fridge. This well help for better home management.
Media- many apps are being built to ensure that from mobile platforms a person is able to switch off and on their gadgets such as television, cable network, radio sets and the rest.
Water management and waste management-this system is designed that from a mobile phone the heater can be turned on and toilets can be flushed and all other things that have to do with water , even dish washers can be turned off and on.
Hdtech as an IT company is working on many of these ideas and has already produced many of these ideas and pushed them into the market.