Spending too much money on business travel is a drastic thing for small to large business owners. The sales heads visited various places in order to increase sales but the cost of traveling is very high. Technology has replaced many inconvenient things in our lives. Now you can get the prolific offerings by using it. Similarly, the video conferencing has solved the problem of higher costs of traveling.
What is it?
With the advancement of all this technology and affordable internet rates, now you can access many things on your phones and computers. The video conferencing is basically a face to face conversation with many people, sitting in different regions at different time zones.  It has made it possible for the business owners to chat with their clients and other sales representatives online.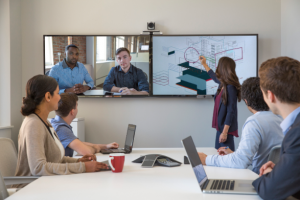 The technology behind video conferencing
The video conferencing technology involves the use of hardware and software. The software includes the application that is required to set up a call. It is the basic thing that needs to be perfect to get the face to face conversations. The hardware is the second thing that is required for video conferencing. It usually includes the computer or TV screens, mic, and speakers. The software of the video conferencing should be compliant with the hardware in order to make the best video calls. If you will choose HDH services, you will get everything precisely. From hardware installation to the software update assistance, you will get proper customer's support at various levels of your project.
How to get the benefit?
The video conferencing has really cut the travel cost. Now you can conduct interviews of the people from all around the world. If you want to organize a business meeting with other entrepreneurs at some other place of the world, then there is no need to get worried about the travel cost, time and planning. Simply choose HDH to provide its video conferencing services and save your precious time and money by joining many people in your conversation at a time.