Trade shows are indeed one of the marketing strategies of businesses and companies to gather people to watch over or introduces their products.  In the earlier years, businesses used banners to get the attention of the people, but, it is not the case in the present times.  At present, companies are using large monitor that show their latest ads.  This signage and large interactive display, is a good tool to attract people who are present in the show.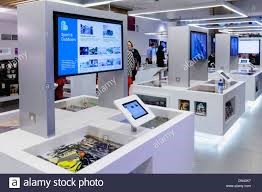 One way of attracting prospects to your company's booth is to let them use interactive gadgets such as interactive TV, phones or even tablets.  This is the only way for them to know more of your company and what you have to offer. Video walls are also used by other companies, to show more about the company.
Some reasons why interactive displays is used in tradeshows:
Promote your company as updated with technology. Using interactive devices will give the impression that your company is updated with the latest in technology.
A good tool to attract more customers. With these interactive gadgets, people will have more interest to visit your booth and enjoy their stay in the process.   It will create a good experience in their side.
It touches every sense of the participants. While they are busy interacting In your booth,
A great sense of memory remains and this remind them of you, when they need your services.  This will create interest on what you do.
Interactive tools, will not only introduce your product and services, but, will give more awareness on how these product and services affects their daily lives.
It makes your booth looks better than the others. Using interactive displays makes your booth more attractive to participants, than the one who uses static way of demonstration.
These are just some of the many reasons in using interactive displays in trade shows and events.
HDH Intelligent Technology
With more than 30 years of existence in the industry, no other company can claim expertise like they do. They are the authority when it comes to home automation.  You can visit http://hdhtec.com and see what they have in store for you.