Office automation helps you atomize all applications and gadgets in the office. It makes use of both software and hardware to provide more efficiency in terms of resources and time. With office automation, you can take care of secretarial tasks, like copying and filling, typing, communication, correspondence, and maintenance of records. There are both benefits and downsides of having an automated office. Below we will explain the pros and cons of office automation to help you decide whether or not to embrace automation.
Pros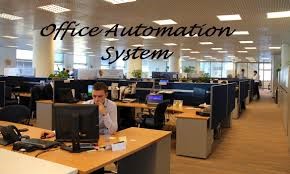 It prevents accumulation of tasks: In certain situations where there is too much of workload, office automation can help you simplify things, ensuring a consistent workflow.
It minimizes cost: Office automation can save the company's cost in the long run because it does most of the work that a paid employee would have been doing. It can perform tasks simultaneously and minimize the number of staff required to carry out various tasks.
It saves time and increases efficiency: Because office automation systems can multitask, they can save a lot of time and promote better work efficiency.
Cons
It minimizes human interaction: In a customer care situation where the customers ask a question not found within the automated system, human interaction might come in handy. So, humans are still relevant for communication and they can never be effectively replaced by automated systems.
Office application can keep work on hold: In case an automation system is faulty, the company has to postpone their tasks until the system is fixed. This leads to waste of time.
High cost on maintenance: The initial cost of acquiring these systems might be very high. Also, the company has to spend at all times so as to train the staff and maintain the system for maximum output. This can eat up a good portion of the company's financial outlay.
Finally, above are some of the benefits and shortfalls of having an automated system in an office. It might benefit an organization better than other organizations. The ultimate goal is to understand how your organization is set up and know what is best for it.