House is one of the symbols that portrait the status of a person and hence it is very important to make sure that your house looks beautiful. And for a house to be beautiful, it should have a very vibrant exterior as well as an interior. A house may look awesome from the outside but if the interior is not up to the mark, then the whole impression of the house would be damaged when a person steps into it.
When we speak about the interior of a house, the most important thing to consider is that the all the furniture and other accessories used are carefully chosen. And the most important accessory of all is the curtain. The colour and the design of the curtain should be carefully selected because if the curtains are not good, then no matter what, the interior will not be attractive. These days conventional curtains are quickly replaced by motorised ones. And these motorised curtains can also be controlled using remote controls.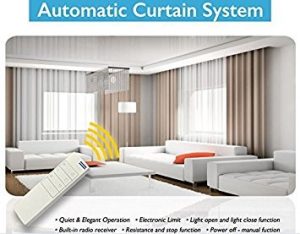 What are things to keep in mind while selecting remote control curtains?
The first thing is that you should make no compromise with the visual attractiveness of the curtains. Just because the curtains can be controlled remotely doesn't mean that it can add beauty to the room. so the colour and the design should be the primary factors to consider.
Since the curtains are motorised, you must make sure that the motors are concealed from eyesight. Bulging motors would certainly reduce the appeal of the curtains.
The remote control should be user friendly. These days the curtains can also be remotely controlled using mobile phones or laptops.
Where to purchase these curtains?
When it comes to the retailer from whom you purchase the curtains, they must be trustworthy and efficient. There will be situations where the curtains will have to be repaired and in such situations, the retailer should be able to perform the maintenance activities.