What is an Electronic Temperature Controller?
As the name implies, an electronic temperature controller controls the temperature by holding it stable over time. These devices are mostly used in the food production/manufacturing industries such as bakeries and dessert shops and in other industries where there is temperature sensitivity. Once a standard temperature or a temperature range is set in a specific area, the electronic temperature controller maintains and controls it. This means that if there are any fluctuations in the temperature, this device will command other sytems, such as HVAC, to adjust either warm air or cold air to maintain the standard temp.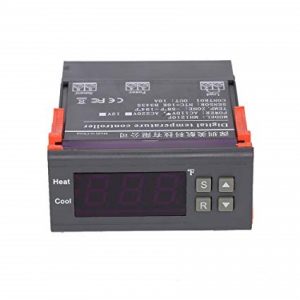 What are its best features?
Setting Change Protection. You can disable key settings and operations so that you can prevent any incorrect and malicious setting changes. This is very important in the food industry and laboratories where products are temperature-sensitive and any wrong setting in the temperature may cause product damages and laboratory emergencies- both may incur huge losses for a company.
Better Accuracy. Without temperature accuracy, you may not as well use an electronic temperature controller. Accurate temperature reading is needed for ease of operations and quality results. Inaccurate reading may cause delayed/late response from the plant's smart system- and also unnecessary responses.
Power– New generation electronic temperature controllers can withstand power surges. Some electronic temperature controllers can even provide you with an ideal power rating of 1200 watts. If your area is prone to electric power surges, these are the best temperature controller you would want to purchase.
Where to get one?
HDH Tech offers New Generation Electric Temperature Controllers and a variety of other electronic products and smart home systems. They have experts that will assist and help you throughout the whole process- from initial consultation, to design- until final installation. They primarily specialize in a full-home/ smart home automation services.