Many do not know that the surveillance systems have recently crossed a milestone by integrating computer-based technologies. Today, anyone can afford an easy-to-use powerful surveillance system. Whether it is related to security of your home or office, the network IP surveillance systems from HDH Tech is always there to protect you. Surveillance systems work to prevent the intruders from entering the property and assist the police in case a burglary happens. When talked about office automation, the network IP security systems are flexible and can achieve more than the usual goals of a home security system.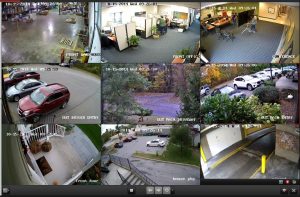 In its simplest form, a security surveillance system captures the images and videos from one location and makes them available on a display device present at another location. These are further connected to a computer through a wireless or wired network. To store the data, the system comes packed with a DVR. In a simple variation of security surveillance, the security camera is attached to the DVR via ethernet cables. When there are multiple security cameras to manage in an advanced way, the surveillance systems set by HDH Tech use IP-based network, HD cameras and cloud storage to give you complete security.
Advantages of A Network IP CCTV Surveillance System for Home and Office
Remote Access: You can login from anywhere in the world through a web-based interface and watch the real-time footage on your Mac or PC aside from other mobile devices, like iPhone, iPad or Android based smartphones and tablets.
HD Images and Videos: The IP CCTV cameras from HDH Tech provide you images and videos in high resolution. This is also beneficial cost-wise because earlier many analog cameras were used to protect an area (because of low resolution) and with IP cameras, the number can be reduced.
However, there are many other advantages, like freedom from tangled wires, better analytic, low power-consumption, and so on.