Businesses always look for ways to promote and market themselves to their potential customers. Trade shows and corporate events are the best options when you wish to display your product and provide the attendees with all the information in an interactive way that utilises top notch technology. Have the best presentation for your stall with the help of interactive display technology.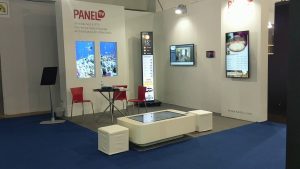 Why interactive displays?
Flexible to use – can be displayed as per the requirement and change information on the go.
Very attractive and attention seeking devices
Analytical – Tracking what visitors were interested in and how long they stayed
Web Capabilities
Can be customised according to the environment
Help in providing all the important information
What is the main goal to reach?
The choice of interactive displays to be used depends heavily on what you aim to achieve with your presentation.
Attracting attention – a video wall is the best option to go with.
Information sharing – Interactive tablets are the way to go, as they are handy and attractive.
Increase audience participation – Tablets or iPads with applications capturing the audience response. Interactive walls can also help here.
Brand value enhancement – Providing attendees an amazing experience by using interactive tools
Lead generation – Generic tablets that contains all the information about the company and product, and help attendees to record their response.
Interactive display technology is very necessary in today's fast paced and highly competitive environment. With over 30 years of experience in the automation industry, HDH has been a reliable partner for many successful brands and corporates that wanted best solutions in interactive technology. Visit https://hdhtech.com, to know more and find out the best solution for your next big event or a trade show.