Now you have seen the ads of Vanishing TV Mirror and you wanted to know more about it. Well, this is the right article to read. Vanishing TV Mirrors is unlike any other televisions offered in the market. It is a high performing television with high definition quality when turned on and a stunning mirror when it is turned off, thanks to its vanishing technology.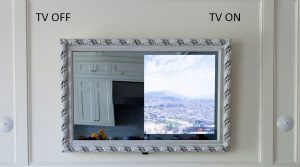 Mirror turn into a TV
Its elegant design can wonderfully suit the ambiance of any room. Its vanishing glass feature provides high quality mirror reflection especially when its television function is not used. This Vanishing TV Mirror offers different features. You can have it as a Smart Mirror wherein it does not only function for entertainment but as well as device to check your notifications of any of your social media platforms or emails. You can also use its smart control feature where you can view your security cameras, a remote to dim the lights or even open your garage using your Smart Mirror.
This Smart Mirror also features a voice command using Amazon Alexa which allows its users to connect with certain information to help you throughout the day.
Can you installed anywhere in the house
Vanishing TV Mirrors also offers an amazing indoor waterproof TV that can be placed in your kitchen or even at your bathroom. Its waterproof and fog free feature allows its viewers to watch movies or news even while relaxing in their bath tubs or showers without worrying for any splash that might damage this cool product.
Thanks to this amazing innovation, our watching convenience is no longer confined in bedroom or living room but now can be placed anywhere in our home.
Have you decided to purchase this Vanishing TV Mirror? Or are you eager to know more about its product features? Now you can have direct access to this information by visiting our website at hdhtech.com.