Home theater is one of the best home Technology, that every family wishes to have.  It would be a great experience, to spend evenings and weekends with the whole family watching movies and enjoying the great sound effects, that brings a more realistic feeling atmosphere.  With the introduction of home automation, home theater experience is more maximized more than ever.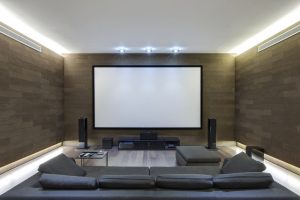 Here are some basic steps in designing your home theater:
Choose the right display for your home theater. The display or the screen is usually the most to attract attention from your visitors and passersby. People will always notice first the quality of the display, your home theater produces.  Maximum satisfaction and relaxation is achieved thru a good display of everything you watch.
Make up your setting arrangement. In this situation, the size of the screen matters. This will dictate how far the sofa or the viewers will set and the angle from the screen is also important.
Then setting up your surround sound in the right place. Choosing the best brand name will also determine the quality of sound you will get.  It is also important to take note on the proper location of the speakers, which is relevant to your living rooms size and its shape.
Choosing the smart control for your home theater. Again, in this aspect, brand names will always dictate the quality of audio and video, you will expect from your home theater.
Making the right choice
Making the right choice on the brand name, the number of speakers and the design of your home theaters is best achieve, by hiring the professionals in home automation, which includes your home theater.  You need to tell them your budget your requirement and if possible show them you living room or music room. By doing so, they can make a proper design tailored to your requirement and they can recommend specification that suits your budget.
Dealing with the best service provider
One automation provider in the industry is HDH technology. Managed by automation professionals and powered by their experience in the industry, the company will definitely deliver.  They have the credentials to perfectly do the job for you.  get in touch with them at www.hdhtech.com and start a perfect business/client relationship with them.