There are a lot of magical things already invented in the world today, but very few surpass the magic of motorized shade and drapery. Imagine being able to shut off the sun on Saturday or Sunday morning when you just want to snooze for the entire morning! For many of us, light can totally interrupt your sleep and wake you up. So being able to control the amount of light entering through your window is surely nothing short of magic.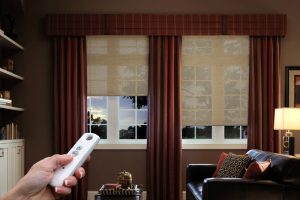 There are various mechanisms that are used in powering motorized shades and drapery.
DC Power Adaptor
This is perhaps the most convenient way of powering a motorized shade or drapery.  At Hdhtech.com we recommend these types of motorized shade and drapery since they are easy to manipulate. They require no installation and no additional wiring. Shade and drapery powered by a DC power adapter only require you to hang your blind, plug in your power and enjoy allowing or shutting off light. Unfortunately, the wires can sometimes be unsightly and may even be risky. It's therefore recommended that you have a power outlet near the window where the installation will take place in.
Solar Power
Fortunately, shades and drapery are designed to be installed near a natural power source; sunlight. This makes it easy to use a solar panel system to power them. You are required to mount the solar panel system behind the shade or drapery facing outwards so that it can catch the sunlight. The unit is then connected to the motor just the same way as with hardwired or battery options. Solar powered drapery or shades are ideal for westward or southern facing windows that receive a lot of sunlight. The windows where these blinds are installed should also be away from trees, free of roof overhangs and free of awnings.
Battery Powered
These are the simplest option for window treatment offered at Hdhtech.com. Shades and drapery that operate on battery have a tube installed up top which lifts them up. The battery is fitted on top of that and then connected to a motor for power. Battery powered shades and drapery are easy to install, occupy a small outlet space, are convenient for hard-to-reach windows and are also the most elegant because they are hard to notice.