Technology has come a long way in the past few decades and year after year, gadgets, apps, and processes are all getting a revamp and upgrade. Every aspect of daily life has been touched by technology and modernity and automation is the 'in' trend. One place where automation and modernity have seamlessly come together is in the home and ultra-modern homes are now more popular than ever.
Installing full automation in your home is a commitment because it will make your life easier and simpler with tasks getting done faster and the best company to install full home automation is HDH Tech and with experience of over 30 years, you a guaranteed perfection.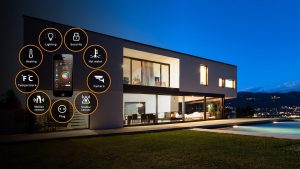 Controlling your ultra-modern home
An ultra-modern home is designed to make your life more stress free and to be able to achieve this, you need to be able to understand and control the automation in your house. Control ensures that you get the most out of the system and all without extra learning on your part or, worse, having to press more buttons and tap more screens that you originally would have without the automation.
To control an ultra-modern home, you will need a well rounded and complete automated home system that will get a majority of tasks done in the most minimum amount of work on your part.
Automated Home System
The Automated Home System is such a system that makes your days ultimately better from the second you wake up to the very last second that you sleep.  Smart Automation Systems give you total control of everything in your home from the music and security to the lighting and shower.
Installing Automated Home System and Repairing automation systems  is simple as HDH Tech has the most qualified professionals to do so and ensure that you have the best service and product best suited for you.