Multi-tasking and failures exist in parallel to business. For a business to be successful, it has to overcome the failures and shortcomings to yield profitability. Cutting down unnecessary costs helps you maximize your profit. Conferencing is one of the ways to reduce such costs. These conferences are oriented in a manner to assess and examine the growth of the business; steps are adopted to anticipate the performance of the business. Web Video Conferencing cuts down the costs incurred by the in-person meetings. Savant NJ is a Smart Automation Installation Company that helps to organize these conferences in homes or in some branch offices.
Cost reduction
When multinationals schedule business meetings and conferences they have to pay for the employees' accommodation and travel. To window dress the image of the business, employees are offered 5-star hotels and business class flights. Scheduling business meeting via web conferencing help to save all these kind of miscellaneous costs that help to maximize profitability.
Easy to setup
Smart Automation Company and Security provide easy-to-use and setup devices for Web conferencing. One of such setup is offered by Savant NJ and Savant NYC. It provides state-of-the-art online services for scheduling meetings, presentations, and training for the attendees. Connecting to web conferenced meeting requires speakers and microphone synchronized with a VoIP connection provided by Smart Automation Installation Company.
Multiple services to facilitates you
Smart automation Company provides an array of automation options such as remote-controlled lighting, shading, cooling, entertainment, entry access, and many more. All the automated options can be controlled using the single tap on a smartphone. With ample experience in Smart Automation Company, HDH Tech is working tirelessly to facilitate users with integrated automated options. HDH tech can customize a well-coordinated commercial system to maximize profitability, assess the resources, and cut down unnecessary costs. Commercial packages can provide Lighting Control, full-fledged Office Automation, Online Web Conferencing, Motorized Drapes, Security Control, Temperature Control, Visual Monitoring, Scheduling Systems, Wireless Collaboration, and easy-to-access presentations.
In-person networking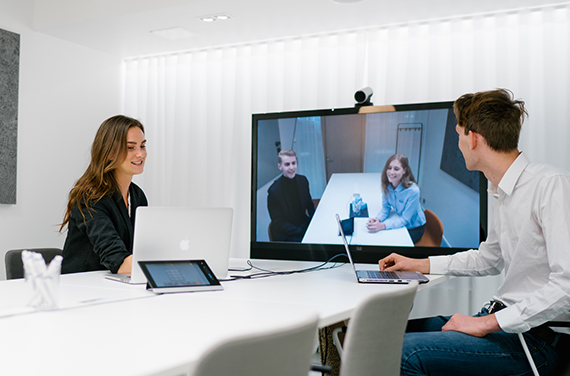 Online Web Conferencing provides a well-executed in-person networking to share information; therefore, it is a valuable source to discuss creativity and Innovation. A set of interactive teleconferencing includes a video camera, monitor, microphones, and loudspeakers provided by Smart Technology Installation Company. Depending on the structure of the Information Technology (IT), different types of software are designed for your ease. The basic Teleconferencing Technology provided by Smart Automation Company has compressed video transmission technology to add a large number of people to ensure both the high-quality engagement and cost-effectiveness. Rather than a webcam that consumes more Internet data, compressed video systems transmit high-quality audio and video using less internet. The teleconferencing we provide is capable of being transferred using Integrated Services Digital Network (ISDN) line.
Interactive communication platform
The software inherits high degrees of interactivity since the users can listen and talk to each other. For instance, if you do not have a specific video camera, you can use your TV camera for video transmission. A desired application fulfills the need of the physical presence as in face-to-face conferences. It helps to understand and interpret the physical expressions and gestures of participants residing in the far-flung domain. The video transmission is enhanced by full-motion, compressed, and freeze-frame video.
Teleconferencing Software
The teleconferencing software and equipment from Smart Automation Company we provide are efficient and convenient to use. Web conferencing increases the efficiency and profitability regardless of the scarce resources. With high-quality video conferencing you will never have to leave your office. You will have all the documents, experts, and members at your single tap. The limited resources we are referring to might be the lack of money for scheduling in-person meetings and accommodating employees in hotels.
Why choose HDH tech?
We specialize in providing unmatched Home and Commercial Automation options to integrate your life. With over thirty years of customer satisfaction we understand the responsibilities of providing excellent services. So what are you waiting for, call 1(855) 850-3808 and schedule a free meeting.