Integrating modern technologies like art, advertising and signage by video walls and LED walls is fast becoming a major trend to the world of digital displays
Specific Uses
Its applications to modern day industries are endless from art, information, and emergency monitoring. To list specific uses these includes: Stock Exchange Monitoring, Emergency Command Centers, Art Displays, Digital Signage, Video Collaboration, Utilities Monitoring and a whole lot more.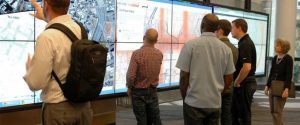 Types of video walls
Collaborative and Interactive Walls to effectively engage your people in the conference room or remotely around the globe using real-time solutions to solve real-time problems.
Multiple Digital Display Walls- A cost-efficient, ingenious wall by utilizing LCD/LED video wall solutions specifically optimized to give visual information. Tailored for applications such as media control rooms, digital signage and architectural applications.
Multiplex Audio-Visual Atmospheres- Enhanced simulation and training environments for industries like industrial design. Manufacturing, maintenance and service training, medical training, museums and education, oil and gas exploration, scientific and medical research.
It very convenient because in can attract the attention because of its huge screen it very impossible to neglect it because of its size. It can also be a touch screen that is also very convenient, and it can also be easily to assemble or disassemble. It also has different sizes and resolutions that you can choose from, but of course a great image can only be achieving if you have the biggest size to also have higher resolution.
To know more about the popular video wall you may go to Hdhtech.com there are more information on how to have and install this new system, and the products that they have.