21st-century video wall displays can make your event more efficient and functional. Hdhtech.com offers video wall displays with three main technologies; DLP with LED illumination, LCD, and DLP. The display technology that you choose should resonate with your application to avoid any problems.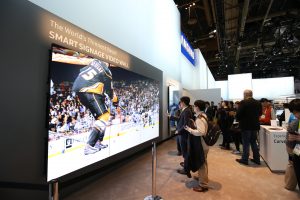 About Video Wall Displays
A video wall is a series of LCD HD monitors that are strategically placed next to each other to act as one large continuous viewing screen. You can either show one image on both of the viewing screens or show separate images on every panel. Video wall displays have become a rage in this age of HD and 3-D technology since they can be used for powerpoint presentations, photos, and display videos among others.
All video wall displays are custom and come in sizes as small as 2' x 2'. They encompass a Tile Matric technology which is what makes it possible to see one large image across multiple screens. The ultra-narrow bezels on the LCD monitors make the screens appear like a seamless wall and for a beautiful uniform display, there is the Edge Comp technology which levels and corrects the brightness of the screens.
Applications for Video Wall Displays
Video wall displays can be used for both indoor and outdoor events. Companies that want to impress outdoor event guests can use video wall displays to exhibit their events. They are also during sporting events where people who can't access (or don't want) the stadium can sit outside the venue instead of watching the game from home.
Video wall displays are also used in projecting live events. Sometimes even people sitting in the front row of the event are unable to have a perfect view of the performance. Viewing the event from the projection on the video wall while sitting at the venue enhances once experience.
Indoors, video walls can be used for social media and gaming activities. Social walls can be used to project the different social content that the event participants are creating such as tweets, posts, selfies, and texts among others.